About

LEARN ALL ABOUT THE GREGORY AT THE WATERMARK HOTEL
The Gregory resides in the Watermark hotel in historic downtown Baton Rouge, Louisiana. If you're looking for dinner with a Southern twist, The Gregory is your best choice. At the Gregory, you can enjoy an upscale brunch, mid-day meal or dinner, all from the ambient convenience of the Watermark hotel. Whether you're staying on the premises or just looking for the best restaurants in Baton Rouge, contact The Gregory to book your reservation.
The Gregory is proud to be one of the premiere locations in the city for private events, group events, special occasion dining and an all-around unique cultural experience. Tourists and local foodies come here to enjoy special evenings out, casual nights with friends and family dinners. The Gregory has been the site of engagements, special proposals, wedding receptions, family celebrations and many other joyous occasions.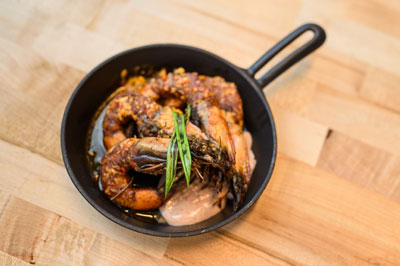 If you are looking for a singular dining experience, contact The Gregory to reserve a table. If you have a special event or group event coming up, contact us at your earliest convenience to learn more about booking a private room. No matter what your needs, our staff can help you reserve your special evening, brunch or lunch. Do you have special requests or a big group? It's not a problem. Our renowned staff will ensure everyone dining with you has an exceptional experience.
Experience the Beauty and History of the Deep South at The Gregory
The Gregory is located close to the Mississippi River and capitol building in Baton Rouge, and offers a truly unique experience of fresh food and lovely ambiance. You can enjoy brunch, your mid-day meal or dinner and then take a stroll by the water, check out a local park or take in the architecture of the nearby capitol building. The Gregory has become a favorite spot for locals, meaning reservations fill up fast. Book now to ensure you get your preferred dates!
When it comes to enjoying a day on the banks of the Mississippi River, The Gregory is where you want to eat. If you're staying at the Watermark hotel or have an event booked there, The Gregory is a convenient, upscale option with a range of dishes you won't be able to resist. Enjoy Southern cuisine with a twist made from locally sourced and fresh ingredients. You'll get a taste of Louisiana without having to leave your hotel. If you're staying nearby, a short walk or drive is worth it to get quality Southern fare that'll make you feel like you've always lived in Louisiana, even if you're just visiting for a few days.
The Watermark has been part of Baton Rouge history for more than 100 years. Its historic architecture and atmosphere are truly one-of-a-kind. With The Gregory right on the premises, the best of old-world Louisiana is combined with a fresh approach to modern cuisine in an experience you won't soon forget. If you have a wedding, party or other event to book, take advantage of The Watermark hotel and The Gregory for your guests' benefit.
Book Your Reservation Today
Whether you need a place for a wedding reception, the prefect Friday night date spot or an upscale bar where you can treat your friends to some drinks, The Gregory has you covered. Brunch meetings, private dining experiences and a relaxing place to find a great meal are conveniently available at The Gregory. One of the best places to eat near the capitol building in Baton Rouge, The Gregory is happy to arrange your reservation or book your private dining experience today.